High Adventure 2014
On Friday 14th March, after several weeks of preparation and planning, 2 teams of Explorer Scouts from Groby boarded a coach and set off for a secret location. The teams were joining 15 other teams from across Leicestershire to compete in Leicestershire Scouts' annual hill walking completion, High Adventure. After a stop at a service station the teams soon arrived at the base camp where they pitched their tents and settled down ready for an early start the following morning.
Saturday morning started with a kit check to ensure all of the teams had the correct equipment with them, followed by a safety briefing from a member of the mountain team. The team were then given their maps and a series of grid references indicating the location of 40 checkpoints scattered across the area which this year was the forests and moors above Lake Vrynwy in mid Wales.
Carrying everything they needed to be self sufficient over the 2 days, including tents, stoves and food, the teams set off to visit as many checkpoints as they could within an 8 hour time limit. If they went over the time limit then points would be deducted for lateness so navigation and route choice were critical.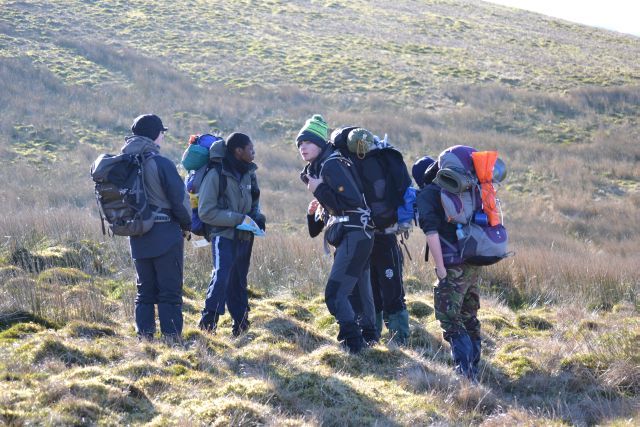 After spending the night at a remote campsite in the middle of the moor, the teams had 6 hours on the Sunday to visit a different set of checkpoints on the way back to the base camp. En route the teams had the opportunity to gain extra points by completing various physical, mental and team building challenges devised by the Leicestershire Scouts caving team.
The competition was split into 3 categories; Scout Network (18-25 year olds) teams, joint Explorer Scout / Scout Network teams, and Explorer Scout only teams. In the Explorer Scout only category, one Groby team, "Dench Henchmen" were in 3rd place with 250 points with the other Groby team "Don't follow us – we're lost" just 5 points behind in 4th place out of 13 teams. Both Groby teams were relatively inexperienced, each only having 1 member who had done the competition before so it was an excellent result.
More photos from the event can be found in our gallery.